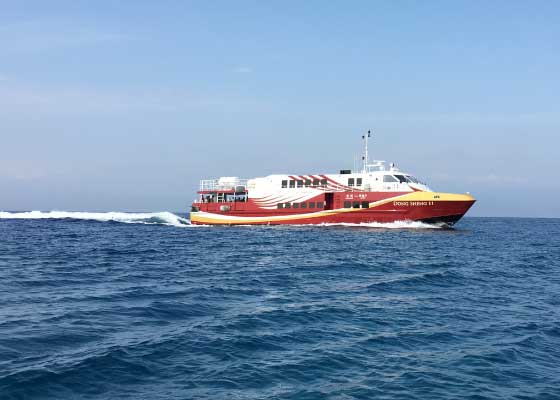 13:30 Take 14:00 ferry to Xiao Liuqiu at Donggang Pier【How to get a ferry ticket 】
The ferry takes 20 to 30 minutes to Baisa Pier.
14:30 Arrived at Baisa Pier, please follow the service holding the sign of Shanban Bay Inn.
【How to get a scooter 】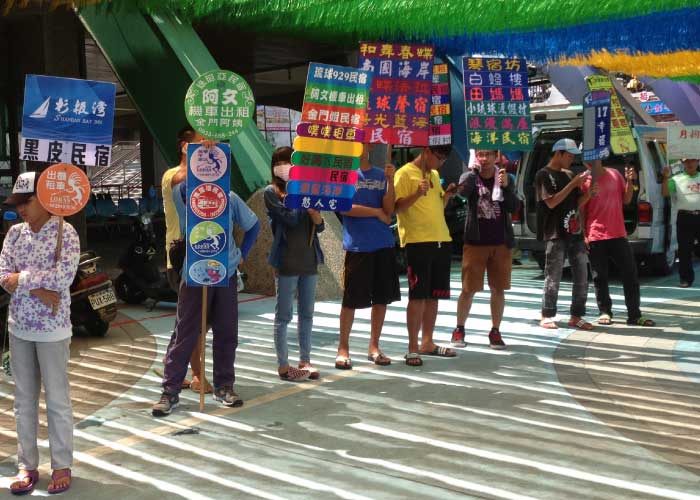 14:30 The rental service lead you to Shanban Bay Inn by riding vehicles (gas or electronic scooters).
15:30 Optional tours: snorkeling (price: NTD 350/per person) or glass boat (price: NTD260/per person)
snorkeling→http://www.sbbay.com.tw/en/snorkelling.html
glass boat→http://www.sbbay.com.tw/en/glass.html
* Not participiate in optional tour, you should play with water in Shanfu or Geban Bay beach.
18:00 Dinner
Eating local cuisine or seafood grill in Shanban Bay or other restaurants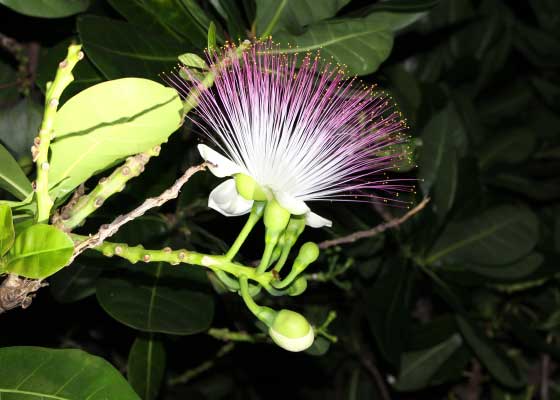 20:00 Night Tour around island
No burning sunshine at night in Xiao Liuqiu is the good time to experience night ecology tour.
Day2 (Xiao Liuqiu)
7:00-9:00 Breakfast Time (adjustable-depends on numbers of dinning)

*Take a walk to Shanfu Pier when getting up early.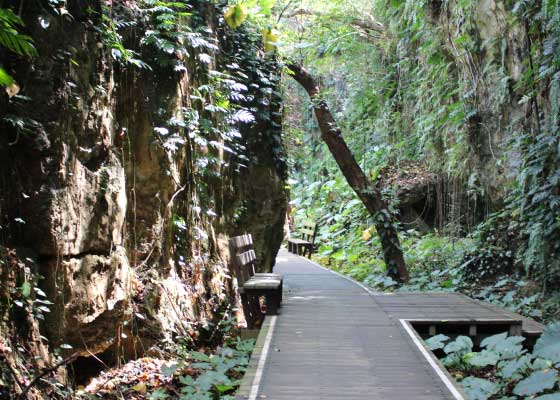 09:30-10:30 Wild Boar Trench(admission ticket is required)
The Wild Boar Trench is a series of intertwining trails that lead through some of the best scenery on the island. The coral here has been eroded by rainwater and formed into a series of caverns and caves. Mix this with the Chinese Banyan Trees that wind all around the coral and it gives the area a really spectacular, unique look.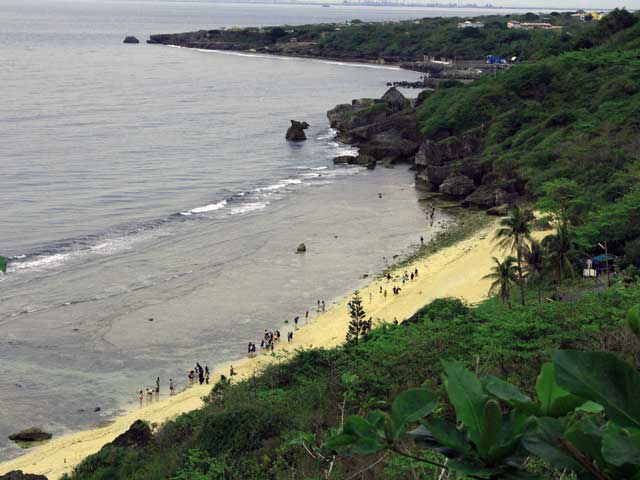 10:30-11:00 Genban Bay
GeBan Bay is Shell Sand Beach which about 100 meters long. Geban Bay is also the one of the great sunset viewpoints on the island. Relax on the beach, swim or snorkel in the ocean, or observe the intertidal zone plus with spectacular sunset are the most peaceful and pleasurable comfort ever.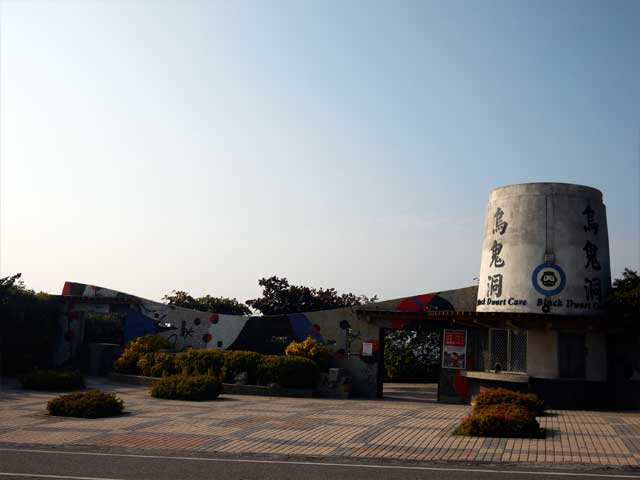 11:00-12:00 Ghost Cave (admission ticket is required)
Black Ghost Cave locates northwest of island. Here is the one of three popular tourist spots of island. The Caves are coral limestone and throughout the park. In the park, you can see the effects of marine corrosion and rock collapses. Along the park path is a banyan. Because of the barrage of strong sea winds, hence the path has formed into shape of a lobster and lying prone on the ground. It is spectacular, and such trees are known as "wind shape tree".
12:00-13:30 Lunch-Local and specialty foods in Xiao Liuqiu's Shopping Area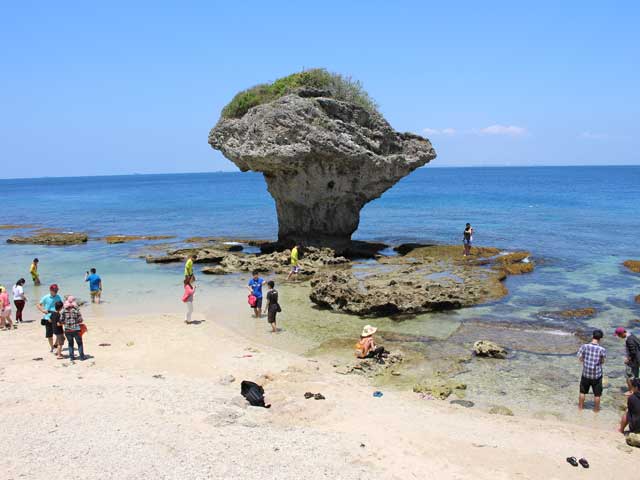 13:30-14:00 Vase Rock
Flower Vase Rock is the most well-known signature landmark of island. Flower Vase Rock was originally a sea stack, but the sea stack's foundation had resulted in a conical appearance after the long-term effect of erosion. With the various plants growing on the top of the rock, its appearance resembles that of a vase with flowers in it, hence its name "Flower Vase Rock".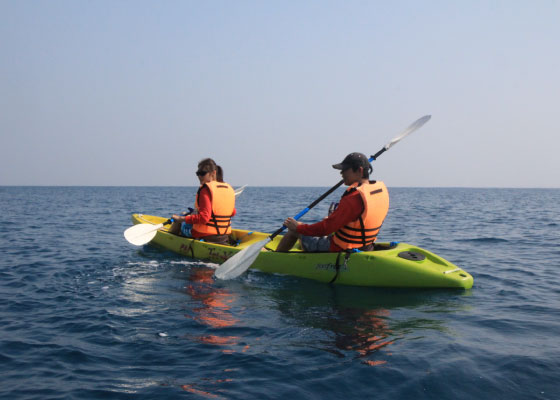 14:00 Optional tours: aquatic activities (price: NTD 600/per person) or land activities (price: NTD250/per person)
Sea kayak→http://www.sbbay.com.tw/kayak.html
Go-kart→http://www.sbbay.com.tw/kart.html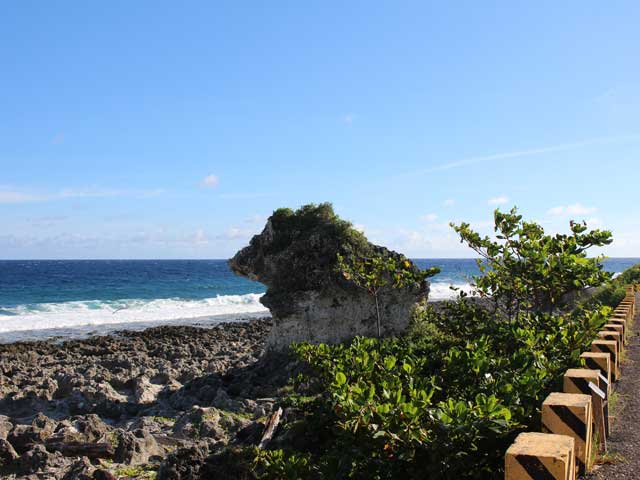 16:00-16:30 Houshih Rock Formations
Houshih Rock Formation lays southeast coast. It is a large and level wave-cut platform where after long-term exposure to the erosive effects of sea water, several uneven shapes and marvelous reefs have appeared, like Indian Rock, Guanyin Rock, Climbing Tiger Rock and Wild Boar Rock.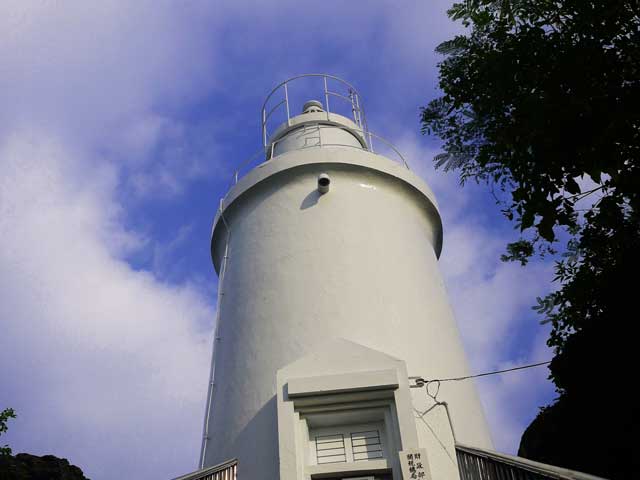 16:30-17:00 White Lighthouse
XLQ's White Lighthouse functionally direct an aid to navigation for maritime pilots in Taiwanese Strait and Bashi Channel.
17:00-17:30 Sunset Pavilion (get time of sunset from the Center Weather Bureau)
The Sunset pavilion is one of the good places to see sunset and rosy clouds. Without no light at night, it is also the best place to stargaze.
18:00 Dinner-Local and specialty foods in Xiao Liuqiu's Shopping Area
Day3 (Xiao Liuqiu→Donggang)
7:00-9:00 Breakfast Time in Shanban Bay Inn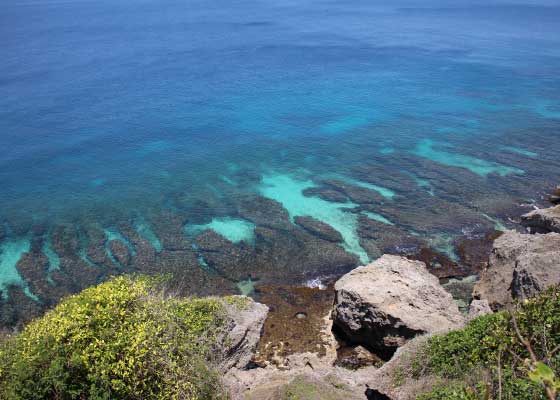 09:00-10:30 Beauty Cave (admission ticket is required)
Beautiful Maiden Cave locates northwest of island. It is one of three most popular tourist spots on the island. Beautiful Maiden Cave is coral limestone where contains more than 20 caves in the park. Here is also the great viewpoint of Net Cage fishery.
10:30 Prepare for checking out (11:00 is check-out time)
11:30 Take a 12:00 ferry to Donggang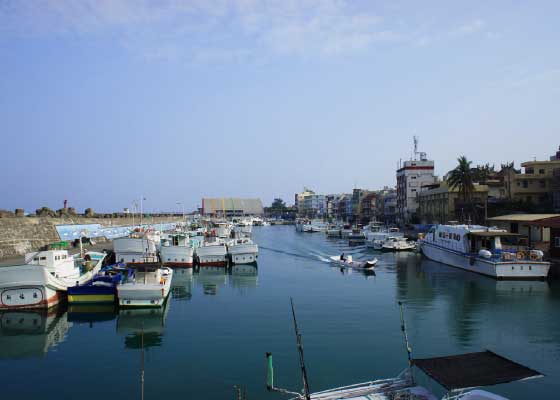 If you are in Baisa pier early, you can buy souvenirs and duty-free merchandises in Ever Rich Duty Free Store. Duty free products are purchased before leaving Xiao Liuqiu an hour ago. Duty-free products can head straight to the Liuqiu's embarkation. Purchasers have to show your photo ID, passport or ferry ticket.

【杉板灣民宿Shanban Bay Inn】

★Service Time: 10:00 - 21:00
★Room Reservation: 08-8613300 or email : shanbanbay@gmail.com or Line(088613300)
★Booking Online: www.sbbay.com.tw/order.php